Messaging Fact
An answering service keeps you "Open For Business" 24 hours per day. Your clients will appreciate that!
Special Offers
Visit our Promotions page for current specials or call us at
1-866-833-8898
Contact Us
Central Messaging

By Phone: 1-866-833-8898

Email Us
24 hour per day, 7 day per week Live Answering Service
Central Messaging Answering Service is a 24-hour per day, 7-day per week live telephone answering service with over 20 years of messaging management experience.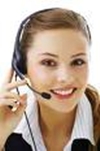 All of our operators are extremely professional, courteous and well trained.

We understand the responsibility that goes along with answering your phones.

We also recognize the importance of taking accurate messages and delivering them to the right person at the right time.
Explore our web site to see how Central Messaging Live Telephone Answering Service can enhance your company's image.
If you prefer to speak with a representative, give us a call at 1-866-833-8898.
Professional Telephone Answering Services
Live Telephone Answering Service... Learn more

Text Messaging to Your Cell Phone or Pager... Learn more

Virtual Receptionist... Learn more

Message Delivery by Fax or Email... Learn more

Message Delivery by Pager... Learn more

Operator Revert... Learn more

On-Call Schedule... Learn more